Sahara Games is not one of our recommended partners. We recommend you check out 1xbet.
Understanding the Sahara Games UG login is a key part of joining this operator. In addition to providing clear information for bettors in Uganda on how to log in, we've included a troubleshooting section that deals with potential issues.
Before diving into our Sahara Games UG login guide, it's worth noting new customers can claim a first deposit bonus. The qualifying requirements are a minimum deposit of UGX 2,000, and you must also place a sports bet with odds of 2.60 or above. After that, you get a free bet. No Sahara Games promo code is required for this bonus.
How To Log Into A Sahara Games Account
This betting site is user-friendly, so the Sahara Games UG login is straightforward. However, if you're brand new to online betting or you want a quick refresher, here's a recap of the steps.
Go to Sahara Games Uganda on your mobile or desktop. At present, there is no app, so you must access the site via a web browser.
If you haven't created an account yet, you must do this before you can complete your Sahara Games UG login.
On desktops, enter your mobile number and password in the boxes at the top of the screen.
If you're using a mobile, tap the Login button first, then enter your mobile number and password before tapping Sign In.
After a couple of seconds, you will be logged into your betting account.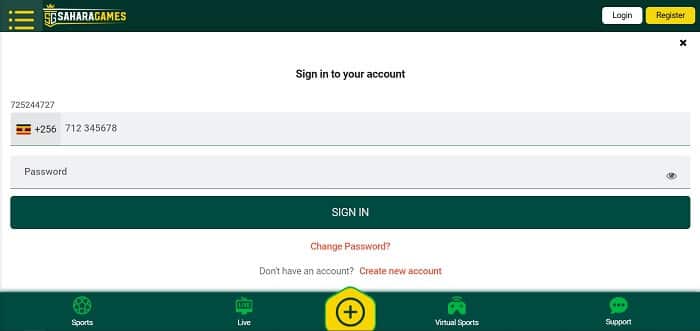 How To Log In If You Have Forgotten Your Password
If you've forgotten your Sahara Games UG login password, don't worry – it's easy enough to create a new one and then proceed with your login as planned. This is how you do it.
On the homepage, next to the Sahara Games UG login button, click Change Password.
Next, enter your mobile number and click 'Send activation code via SMS'.
Type in the activation that Sahara Games sends.
Enter a new password and confirm it.
You'll now go back to the home screen, where you can log in as usual.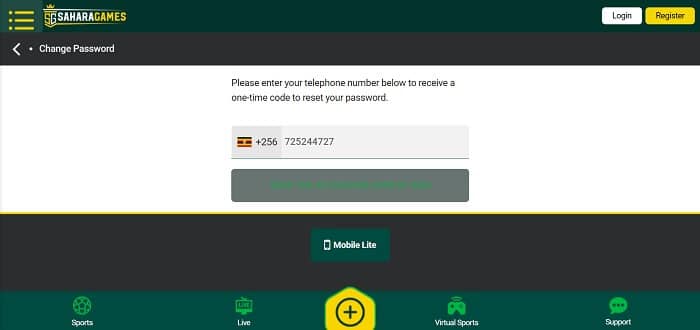 Potential Problems
Sahara Games login issues do arise from time to time. Typically, these are something related to the customer, but on occasions, they can be from the operator. We've put together a list of the potential problems along with things you can try to resolve them.
Incorrect Sahara Games UG Login Details
The most common reason for not being able to log into your sports account is due to entering incorrect information. Double-check that you've entered your phone number and password correctly, then try again.
Slow Internet
If your internet is slow or you have an unstable connection, this can cause issues when trying to log into your betting account. You can do a free speed test to check your upload and download speeds. For something like this, we recommend finding a cafe or somewhere with good wifi.
Frozen / Suspended Account
This usually only happens if Sahara Games believes that you've infringed its terms of service. For instance, it might think you have multiple betting accounts or you've abused the sign-up bonus in some way. To resolve this issue, you must speak directly to customer service.
Sahara Games is Down
It could be that the issue is nothing to do with you but rather with the operator. As there is no app, you cannot check the login through that. Instead, if you know your internet is working, we suggest looking on social media for announcements from the operator.
Sahara Games UG Login Conclusion
Without question, the Sahara Games login process is quick and easy, which is what you want if you are in a hurry to place a sports bet. Of course, you may have a problem every now and then, but the tips we've provided above should help to resolve them.
As a reminder for players who haven't joined yet, there is a free bet sign-up bonus available to new customers. You have to make a qualifying deposit and place a sports bet to be eligible for this offer.
FAQ
📱 Can you log in via mobile?
Absolutely, yes, you can log into your Sahara Games betting account via a mobile. All you have to do is tap Login and enter your details, then tap Sign In. Also, there is a mobile lite platform, which uses less data, but there isn't a downloadable app.
🔒 Is Sahara Games Uganda safe?
Yes, it is. This website is owned and operated by Sahara Game Technology Corporation, which has a local office in Kampala, Uganda. Furthermore, it offers localised support via live chat, email, and Airtel and MTN phone numbers.
❓ What information do you need to provide when logging in?
The only information you need to provide is the mobile number and password you used to create your sports account. Once logged in, you can deposit, claim the welcome bonus, and bet on your favourite sports.
💰 Do you need to log in to withdraw from Sahara Games?
Although you can deposit and withdraw online, it's also possible to make withdrawals via SMS, without logging into your account. Simply send an SMS with the text GET#AMOUNT to 6969. Note that the minimum withdrawal amount is UGX 1,000.