Sports betting in Uganda is very popular given how much the country enjoys sports. And just like with any other jurisdiction, the sportsbooks here also need to have the proper licence and regulations. Our article has all the info about this topic.
Is Betting Legal in Uganda?
Betting is legal in Uganda in many forms. The most popular form is probably sports betting and gambling, both of which were legalised in the 1960s. Most sources claim that gambling activities had taken place in the region but were not regulated before that.
The National Lotteries and Gaming Act was amended in 2016, and that is recognized as the official year when gambling and sports betting were legalised in Uganda. The Gaming and Pool Betting (Control and Taxation) Act of 1968 is another legislature that legalised sports betting in Uganda.
Although the act of gambling and sports betting is legal in Uganda, the rules are not strictly enforced. So, there are plenty of black-label sportsbooks, both online and offline in the region. In order to remain safe, we advise punters to ensure that the sportsbook or casino they are visiting is licensed and regulated by the proper authorities.
Sports Betting in Uganda
So far, we have established that sports betting is legal in Uganda and regulated by the National Gaming Board. There are plenty of sportsbooks in the jurisdiction, both online and land-based. This also includes a lot of international online sports betting sites.
Any sportsbook, either online or offline, providing sports betting services in the region should be licensed. You can usually find the licensing information at the bottom of the sports betting site.
The most popular sport to bet on in Uganda is football. Uganda is a country with nearly 45 million residents, and a good chunk of these residents are football fans.
Uganda in general is a country that loves sports. And because of that, there are plenty of people engaged in sports betting in the region.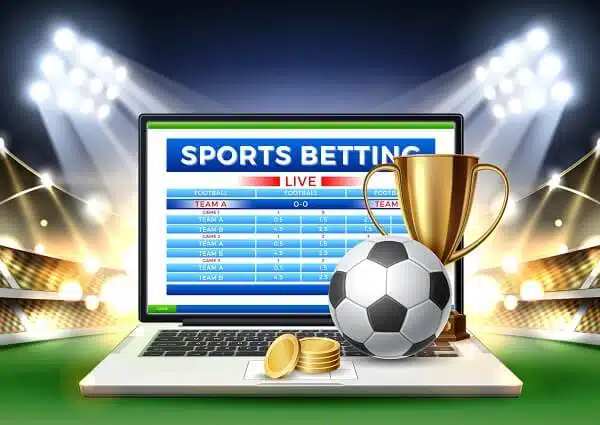 ⚽ Bet on Football in Uganda
As we said, football is the most popular sport in Uganda to bet on. There are plenty of tournaments that happen around the year in football, and you can see that Ugandans keep track of the results.
There are many sportsbooks, both local and international, that offer sports betting services in Uganda. The reason this sport is so popular is because of the fast pace of the game. Punters particularly enjoy live betting when it comes to football betting.
🎾 Bet on Tennis in Uganda
Tennis is another sport that is quite popular to bet on in Uganda. Although the popularity of tennis is still newfound, punters have become familiar with all the major tennis tournaments.
The sport allows for punters to primarily bet on individual players, and this has built up quite the popularity for the sport.
🏀 Bet on Basketball in Uganda
Basketball is quite popular in Uganda for the same reasons that football is. The sport is quite fast-paced, and the odds are always fluctuating. This makes the sport a good one for live betting as well.
Sports bettors can place pre-match bets as well since there are quite a few popular tournaments that sportsbooks offer in the region.
🥊 Bet on Boxing in Uganda
Boxing might not be the most popular sport to bet on, but punters in Uganda definitely enjoy it. The intensity of the sport makes it a good one for sports betting.
A lot of African athletes are also engaged in boxing tournaments around the world. And this has boosted the popularity of the sport in Uganda.
🏏 Bet on Cricket in Uganda
Cricket is a timeless sport that is loved by many. Although the sport is quite long and drawn out, some punters enjoy placing bets as the match goes on.
A lot of bookies in Uganda also offer competitive odds on cricket. So, there are many punters who give cricket betting a try.
List of Betting Sites in Uganda
Uganda has a lot of local and international betting sites that offer sports betting services. The locals tend to enjoy sports betting over the plethora of other gambling activities, which is why sports betting sites are more popular.
If you are thinking about betting on sports, a few things you should keep in mind include verifying the licence of the sportsbook and checking to see whether it has a welcome bonus.
The bet365 bonus code MAXFREE can be used during registration, but does not change the offer amount in any way.
Welcome Bonuses on Betting Sites
A welcome bonus is important whether you're going to bet on sports or play casino games. Most sportsbooks in Uganda do offer welcome bonuses in the form of deposit matches, cashback or free bets.
If you're not familiar with the types of bonuses that a sportsbook might provide, we'll give you some insight. The most common form of welcome bonus is a first deposit bonus. This bonus is given to punters once they sign up and make an eligible deposit.
The bonus is usually a certain percentage of their deposit matched by the sportsbook. There are also some no deposit bonuses that don't require any deposit. Punters can just sign up and claim the deposit after meeting the terms.
In the case of a cashback bonus, a certain amount of your stake is returned if you lose your first bet. And another type of bonus comes in the form of free bets. This might be a welcome bonus or a promotion by itself.
We've also included a table of bonuses for you. You can check them out on the official site of the sportsbook.
25+. Minimum deposit: 4000 UGX. Each accumulator must contain 3 or more selections, at least 3 of which must be at odds of 1.40 or higher. he second half of the bonus amount must be wagered 35 times in 1xGames. T&Cs Apply.
25+. Up to $30 in Bet Credits Min deposit requirement. Bet Credits are available for use upon settlement of bets to value of qualifying deposit. Min odds, bet and payment method exclusions apply. Returns exclude Bet Credits stake. Time limits and T&Cs apply.
18+. Get 200% from your deposit up to UGX 500,000 to your balance after finishing the 7 turnovers. Conditions to get the bonus: 3 rollovers, minimum 5 selections, minimum total odds 5.0. For rollover purpose: the bets must be on different matches. Wagering must be completed within the first 30 days after your first deposit. Full T&Cs apply.
Live Betting in Uganda
Live betting is a very popular form of sports betting in Uganda. The locals quite enjoy betting on sports that have high intensity and are very quick. And live betting is the best way to take advantage of sports like that.
If you're not already familiar with live betting, we'll explain a little about it to you. Live betting, or in-play betting is a form of sports betting that allows a punter to place bets as the game progresses.
Since the game is happening while the bets are being made, the odds are bound to chance. And the sportsbooks will usually update odds as the game progresses. Another great thing about live betting is that players can follow the match statistics live.
Statistics and analytical data can offer a lot of insight for sports betting. And since live betting causes rapid fluctuations in odds, this can be an edge for the punters who know how to follow the stats.
Usually, the range of markets in the live betting section is not as diverse as the pre-match selections. But since it is still happening in real-time, it adds an element of excitement that pre-match bets cannot compare to.
Alongside live betting, a lot of sportsbooks also offer live streaming options. Usually, the live streams are not available for every single event. But a lot of sportsbooks give punters the convenience of watching the match live while placing their bets.
There are also some exciting bonuses that you might find in the live betting section of a sportsbook. All of the features combined make live betting a very exciting choice for punters.
There aren't many drawbacks to live betting, but sometimes you might not find a specific market in the live section that is available for pre-match bets.
New Betting Sites in Uganda
Uganda has plenty of options in terms of sports betting sites for punters. If you're looking for a site with plenty of features, you can take a look at a few of the most popular ones.
But even the newer sports betting sites are slowly rising in popularity due to the sheer volume of features that they offer. When selecting a sports betting site to recommend to readers, we take into consideration the overall site interface, offerings, and promotions.
In this section, we'll list a few of the new sports betting sites that are slowly gaining popularity in Uganda.
1xBet
1xBet is a licensed sports betting site that is currently operating in multiple jurisdictions, including Uganda. The sportsbook is licensed by the National Lotteries and Gaming Regulatory Board of the Republic of Uganda.
1xBet offers a diverse and robust selection of sports to punters in Uganda, including a live betting feature for punters to take full advantage of. It also has a casino and live casino section for punters who might want to play a few rounds of table games.
And the sportsbook even offers eSports for punters in Uganda to bet on.
Betwinner
Betwinner is owned by HARBESINA LTD. The company welcomes players from many different countries around Africa, including Uganda.
The sportsbook has some great offerings in the sports betting section along with a few very exciting bonuses. It also has a casino section with a small selection of games by leading software providers.
Gal Sport Betting
This sportsbook has a great website with quite a few sports offered to punters. It also has a live section and virtual sports section. And there is a casino and live casino section as well for
Popular Events to Bet on in Uganda
Uganda is known for loving sporting events that are related to football. Since football is widely regarded as the most popular sport, punters have a lot of sports knowledge regarding this sport as well.
So, the most popular events you'll find punters in Uganda betting on are football events. The AFCON is probably the most popular of the sporting events that punters enjoy betting on. Since this is an African tournament, punters usually get more markets in the Ugandan region as well, which increases its popularity.
You can also find foreign leagues like the Spanish League, La Liga and the English Premier League. The English Premier League is a high-intensity league that sees a lot of attacking play, and this makes it good for live bets.
On the other hand, La Liga is a much slower paced league that punters can take their time in by looking at statistics and trends. While the English Premier league is unpredictable, La Liga has a couple of dominant teams that keep the tournament interesting.
Another popular one from the sporting events to bet on is the English Championship. Although it is a domestic English league, punters in Uganda are quite familiar with the rules and enjoy betting on this league a lot.
And the most popular sporting event that punters enjoy betting on is the World Cup. This is arguably a popular tournament in any region of the world. But punters in Uganda quite enjoy betting on the World Cup while deciding each match winner.
Our Betting Guides
Betting guides are very important for sports bettors who are new to the activity. There are plenty of sports betting guides online that describe how to place bets on a certain sport. Online betting gives punters the opportunity to do more research on the sport minutes ahead of bets being closed.
Online betting guides also give details on how to make payments to a sportsbook and withdraw your bonuses. Mobile betting is also a big part of online sports betting and it might be a bit different from betting on a website or at a land-based sportsbook.
So, if you're ever having trouble with your bets, you should always be able to find a resolution in an online sports betting guide.
Betting Predictions in Uganda
To place the most accurate bets, it's important that you follow some betting predictions and tips before doing so. Predictions might even come in handy if the sportsbook is handing out a jackpot and you want to participate in it.
Football tips would include doing a lot of research beforehand regarding the conditions of the match and team form. Football, in general, is a high-intensity sport, so making decisions in the heat of the moment might make you get your predictions wrong.
Cricket predictions would be the polar opposite of football. Since the matches are a lot drawn out, punters can make their predictions based on the real-time statistics for the game.
Tennis and basketball predictions are also quite similar to football. Both are high-intensity sports, and for that reason, punters need a lot of experience and research to get their predictions right.
Boxing is mainly about predicting the match winner. This might sound easy at first, but the form of the athletes is a very important aspect of it.
Responsible Gambling
Responsible gambling is a term you might have already heard of if you're a seasoned punter. A lot of sportsbooks offer resources to punters that help limit themselves in case they're having trouble with it.
Uganda had talks in 2019 regarding a ban on issuing new licences and renewing old licences. Although there was not much said about it afterwards, sportsbooks are still operating in the region with valid licences.
The reason for the ban was because gambling and betting had become a nationwide issue at one time. Residents had become so addicted to the activity that they were recklessly losing a lot of their money. And this meant the economy also suffered to a certain extent.
Some things that punters should keep in mind when gambling include the purpose of gambling. Gambling and sports betting were both intended to be a form of entertainment for people. It can become problematic if people take it to the point of being an income source.
If you continue to gamble to earn money, you are likely to end up chasing a lot of losses. And in doing so, a lot of people lose out on money that they don't even have. If you don't gamble responsibly, you might even go into debt.
Even if you have a lot of sports knowledge, that doesn't guarantee that you will guess the match winner for every single bet. So, limiting yourself and how much you spend on your sports betting is very important.