1xBet is a global online betting company that's accessible across a range of platforms. This 1xBet login guide takes you through the process of logging into your account via the website and mobile apps.
We also share some troubleshooting advice for customers that are having difficulties getting into their accounts. For new customers wanting to learn more about this operator, including its welcome bonus, we also recommend reading our 1xBet promo code Uganda review.
How to Log into a 1xBet Account
To bet online with 1xBet – be it sports betting or casino gaming – you need to pass through the 1xBet login mobile or desktop process. Although it's relatively self-explanatory thanks to 1xBet's user-friendly platform, it's useful to know the steps for those new to online betting.
The following steps effectively continue after the registration phase. Furthermore, we've written this guide under the assumption that players have enabled additional security features on their accounts.
Go to 1xBet Uganda.
Click the LOG IN button at the top (next to Registration).
In the drop-down box, you must enter your 1xBet ID or your email address. Alternatively, you can click the phone icon to complete the 1xBet login using your registered phone number.
After that, enter your password – this is given to you when you create an account – and click LOG IN.
If 2FA is enabled, you must open your authenticator app and get the OTP and enter that.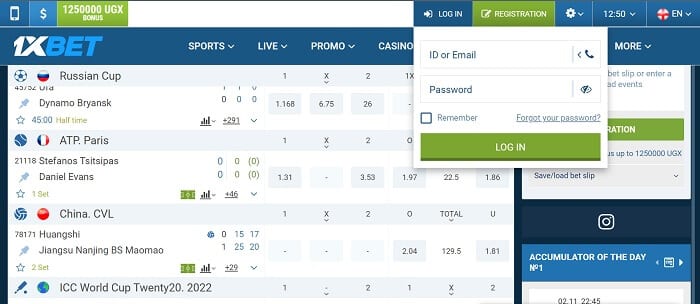 1xBet Login Mobile: Android
A striking feature of this betting site is that the look and feel of each platform are very similar, so once you have completed the 1xBet login on a desktop, it's straightforward to do it on an Android or any other device.
Open the 1xBet app (or visit the website).
Click the blue LOG IN button.
Enter your email, ID, or username (if you've set one). Tap the handphone icon if you want to log in using your phone number.
Enter your password.
Enter the Google Authenticator code.
1xBet Login Mobile: iOS
Although the 1xBet iOS app is not as popular in Uganda as its Android counterpart, it's still available for players with Apple devices. Here's a run-through of the login process:
Open the app.
Enter your ID, email or phone number if you prefer.
Type in your password before clicking LOG IN.
You can now have a bet.
It's still possible to use Google's 2FA with Apple products. If you've enabled this on your account, then you'll need to enter the code to access your account.
How to Log in If You Have Forgotten Your Password
There's no reason to panic if you cannot remember your 1xBet login password because it's easy to set up a new one for your account.
Click LOG IN and tap on the Forgot your password? Link.
You can recover your password by email or phone. Enter your verified email address or phone number and click SEND CODE.
Complete the Captcha code to prove you're human
Enter the code sent by 1xBet and set a new password.
Go back to the 1xBet login mobile screen. Enter your details along with the new password.
You can now access your sports betting and casino account.
Potential Problems
With the simplicity of the 1xBet login, you shouldn't encounter any issues that are easily solved. However, these are some of the things to be aware of:
Incorrect data: If you try to log into your account, but you get an error message, it means that you've entered the wrong ID/email or password. Simply double-check the data and try again.
Slow internet: Users with extremely slow internet may struggle to log in online or through the app because the speed isn't enough to securely send the data through. You can speed test your connection or visit a wifi hotspot with a faster connection.
2FA out of sync: From time to time, you need to reset the time on the 2FA app. If the OTP doesn't work, we suggest trying this.
1xBet is down: Of course, the issue may be that 1xBet is having technical problems, or the site is under maintenance, which means it isn't online.
It's always worth noting that customer support is always on hand to assist players with any problems related to registration, casino, sports betting, bonus offers, and 1xBet mobile login issues. If you cannot access your account, open the live chat and report the problem.
Conclusion
You're now well-equipped to complete the 1xBet login mobile on any device. Additionally, you know how to reset your password after registration. Overall, this online betting site is smooth and easy to use, even for total beginners, which is among the reasons why it's a popular brand – not just in Uganda, but worldwide.
1xbet Login FAQ
For a little more general information about the 1xBet login mobile, browse through the FAQs below.
📱 Can you login via mobile?
Absolutely, yes. 1xBet is truly mobile-friendly. Players can complete the registration and log in on a mobile. Moreover, you can claim a sports or casino bonus and bet on the go.
🔒 Is 1xBet Uganda safe?
Yes, it is. The website is owned and operated by Advanced Gaming Limited, which operates under licence from the National Lotteries and Gaming Regulatory Board of the Republic of Uganda. Therefore, you can be assured it is completely legit and safe.
❓ What information do you need to provide when logging in?
You must provide either your account ID, username, or email and your password. Another option is to log in using your telephone number and password.
⭐ Do you use the same login for sports and casino?
Yes, both sports and casino are on the same platform, so you only need to login once to access both products. Also, all bonus offers for sports and casino are available.