The 1xBet app is now available for new and existing players with the online bookmaker. Here, we guide bettors through the download and installation steps. In addition, we provide further details about one of the best betting sites and its features.
How to Download the 1xBet App
Today, bettors can download the 1xBet app for Android through the Google Play Store or on iOS devices via the Apple Store.
Overall, the download process on devices is straightforward and it can be completed with a few simple steps. Below, we provide step-by-step instructions on how to get the 1xBet app for Android and iOS.
How to Download on Android
Firstly, our guide shows Android users how they can get the mobile app on their devices.
Firstly, our guide shows Android users how they can get the mobile app on their devices.
To begin, players head to the Google Play Store and find 1xBet. Alternatively, players go to the bookmaker's page and they can download the apk file from here.

Second, bettors click 'download' and the process should begin instantly.

Sometimes, players receive a notification that asks for permission to download the app. Here, customers must head to their settings and click 'Allow Unknown Sources'.

Lastly, the installation process begins and the application should be available within minutes.
How to Download on iOS
Secondly, we guide players through the download and installation process for iOS devices. However, iOS users must complete a few additional steps.
To start, iOS players head to the Apple Store and click 'Apple ID'.
Then, bettors select their region or country from the list available. Here, players select Uganda.
Next, players agree to the terms and conditions and policy.
To continue, customers input their ID and fill in any other necessary fields.
Lastly, players download the 1xBet app from the Apple Store and the installation should begin instantly.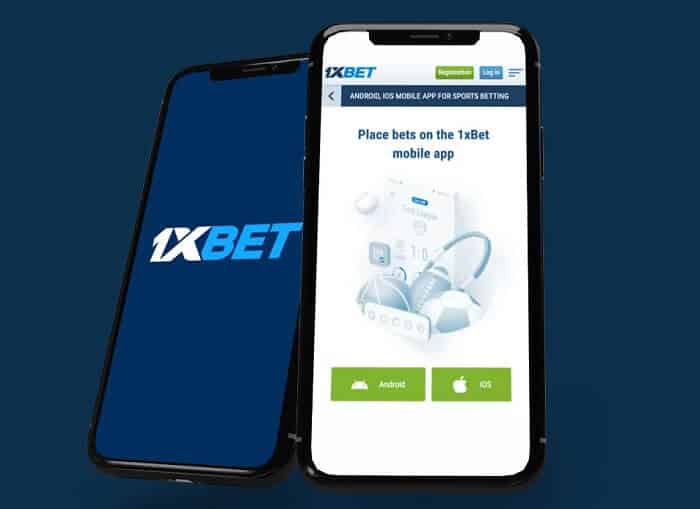 System Requirements
However, before players begin the 1xBet download process, they must check if their device supports this platform. Also, for the app to work correctly, bettors must have a certain version of the device.
For instance, the 1xBet app can be downloaded on Android versions 5.0 or newer and iOS devices 11.0 or newer. If players are unsure if their device takes the mobile app, they should check with their phone manufacturer.
1xBet Mobile Offer
300% Up to 1625000 UGX

25+. Minimum deposit: 4000 UGX. Each accumulator must contain 3 or more selections, at least 3 of which must be at odds of 1.40 or higher. he second half of the bonus amount must be wagered 35 times in 1xGames. T&Cs Apply.

Visit site
In addition, when new players download and install the 1xBet app, they can get a 300% Up to 1625000 UGX welcome bonus.
To receive this welcome bonus, players must register their account in full and input the promo code. Also, qualifying criteria and wagering requirements apply. For instance, players must make a minimum 4000 UGX deposit. Also, half of the bonus amount must be wagered 5 times in accumulator bets.
Signing Up on Mobile
Furthermore, new players who download and install the 1xBet app can complete the registration process on the platform. Alternatively, players can get started with the bookmaker by registering their account by phone number.
Here, we provide step-by-step instructions on completing the mobile app registration.
How to Register on the App
Firstly, we guide players through the mobile app registration process so they can access sports betting and other features.
First, bettors open the app and select the registration option.
Second, players fill out the required fields, including full name, phone number and email address.
Next, bettors enter the 1xBet promo code if they wish to receive the welcome bonus.
Then, players check their details, agree to the terms and conditions and press register to continue.
Lastly, players can log back into their account via the app at any time by using their username and password combination.
1xBet Registration by Phone Number
Alternatively, new customers can complete the account setup process via their phone's SMS service.
Here, we provide step by step instructions about how players can create their account through their phone number.
To begin, players head to the app or the bookmaker's website and click registration.
From here, new customers click the register by phone option.
Then, bettors enter their phone number and enter their preferred currency to continue.
Next, players press confirm and enter the code received by SMS message.
Lastly, players enter their promo code and click register to complete their account setup.
Benefits of Using a Mobile App
Overall, players get many benefits by using the app platform compared to the general site.
Firstly, one of the best features of mobile wagering is the option to wager on the go from anywhere with the internet. As a result, this makes live sports betting easy and quick. Also, bettors can utilise further services on the go, such as the promo code and different payment methods.
Generally, using a mobile platform from betting sites is more suited to modern bettors too. Often, modern players are using their devices to place wagers, find promo codes and use account management. As a result, players are using desktop devices less and the app from 1xBet offers a good alternative.
Sports Betting
Sports betting is an important feature for any modern bookmaker app. Currently, the app from 1xBet has an easy to use sportsbook where players can place bets. Also, bettors can easily select live bets via the sportsbook, which includes matchwinner markets and specific odds for live bets.
Moreover, when compared to the betting sites desktop version, the sportsbook features of the app run very smoothly. Also, finding the latest live and pre-match odds is simple and straightforward and players can also favourite their preferred teams, fixtures and competitions.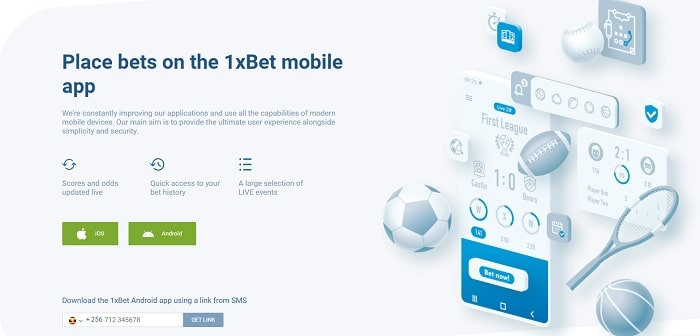 Usability
In terms of usability, 1xBet has created a smooth and quick app that works well for phone users and bettors wanting live options.
Usually, the app runs quickly when connected to the internet or data and players have no problem with speed. However, if the internet signal is poor then the app will naturally run slower and load times may increase.
Also, accessibility for the latest odds is good and players can easily navigate the app to find their preferred bets and markets. In addition, all the necessary pages and options are clearly labelled on the app so players can easily find the sportsbook, contact details, FAQs and more.
Mobile Payments
At present, 1xBet has a large selection of payment methods available for both deposits and withdrawals. As a result, this makes payment methods via credit and debit cards, Airtel, MTN money, MyBux, and Skrill easy.
To make a deposit or withdrawal, bettors must log into their profile and select their preferred payment methods. Then, they choose how much to deposit and withdraw and click confirm. However, the minimum deposit is 4 000 UGX and withdrawal is 5,800 UGX.
Conclusion
In summary, the 1xBet app offers a good alternative to betting sites. Today, players want to wager on the go more and have accessibility to their account through their phone. 1xBet offers these services and it provides good options for sports betting, payment methods, and access to promotions.
Furthermore, the app is easy to install on both iOS and Android devices, which makes it accessible for many players. In addition, the usability of the app is appealing to many customers as they can get most services via the platform.
1xbet App FAQ
In this final section, we answer some of the most common questions that players ask about the 1xBet and about the bookmaker in general.
🇺🇬 Does 1xBet operate in Uganda?
Yes, 1xBet is one of many betting sites that has services in the country. The company has a licence issued by the National Lotteries and Gaming Regulatory Board of the Republic of Uganda.
📱 Can I use 1xBet on mobile without downloading the app?
Yes, 1xBet users can use the online phone browser version of the platform instead of the app. However, this is likely to run slower compared to the app. 
⭐ Can I download the 1xBet app on any mobile device?
Currently, any player with an Android phone or iOS phone can install the application onto their device. However, phones must have certain system requirements for the platform to run smoothly.